What is this?
PDF Metadata Editor is a simple tool you can use to edit the metadata (Author, Keywors, etc.) of a PDF document.
Features
Support Basic, XMP Pdf, XMP Dublin Core and XMP Rights metadata
Unicode support,  can use all languages and encodings
Default values to pre-fill if not set in the PDF file
Rename file on Save using predefined template
Copy XMP to Document metadata or vice versa on Save
Batch clear, edit and rename metadata (requires license)
Command line edit, clear and rename (requires license)
Export metadata to JSON or YAML (requires license)
Screencast
Editing pdf metadata:
Batch clear and edit:
And few screenshots: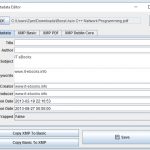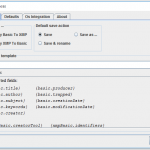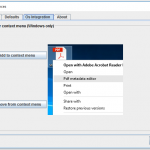 Download

v3.0.1
Update SnakeYaml bceause of CVE-2022-1471
Old 2.x Version

Installer for Windows and Linux. You need to to have Java already installed to run it.

Download "Windows & Linux Jar Installer"

PdfMetadataEditor-2.2.2-installer.jar – Downloaded 115805 times – 8.82 MB

Mac OS X application.

Download "Mac Os X App"

PdfMetadataEditor-2.2.2.dmg – Downloaded 68867 times – 68.00 MB

Single zip file containing everything you need (except Java) to run it on any OS. It has launchers for Windows, shell script for Linux/Mac OS and a self contained runnable jar.

Download "Extract & Run Zip"

PdfMetadataEditor-2.2.2.zip – Downloaded 68072 times – 6.76 MB
Installation
Check the Help page for more information
Source code
Contact
If you have suggestions, found bugs or just want to share some idea about it you can open an issue at https://github.com/zaro/pdf-metadata-editor/issues or write me at: zarrro [AT] gmail.com
Special Thanks
Goes to Andres Aule who helped a lot with ideas and testing.

Donate
If you find this tool useful and would like to support its development you can donate a small amount so I can buy bananas to hire a minion to work on it 🙂